LIBRARY
We understand the importance of inculcating the habit of reading and thus we encourage our students to make full use of our spacious, airy, well-lit and fully furnished library which holds a place of pride in the school. The library is well established with an abundance of books, journals, periodicals and daily newspapers which are made available to students during their library or free periods. This allows the students to expand their knowledge about a vast variety of topics. The school takes great care to include books to support the curriculum as well as some recreational reading materials such as novels, comics, classics etc.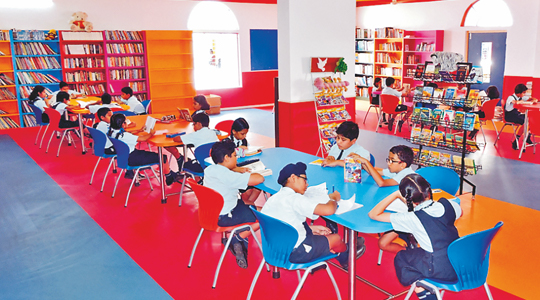 AUDITORIUM
The school has a state of the art auditorium with a stage, anterooms, orchestra pit and a seating capacity of 800 students. It is the preferred venue to conduct events and special occasions like inter-house, interclass and individual activities and competitions which are an integral part of the school's extracurricular program. In addition, the auditorium also hosts other events such as teachers seminars, parents' orientation meetings, career development lectures, as well as important functions like investiture and felicitation ceremonies throughout the year.
SCHOOL MESS
Keeping in mind the habit of healthy eating, our school provides lunch in the campus as per the schools healthy eating plan. The school has in-house cooks who prepare hygienic and tasty meals in the ultra-modern kitchen which is equipped with the latest automation tools and kitchen utensils. We believe in nourishing the young minds with healthy and nutritious food throughout the week.
SCHOOL TRANSPORT
A fleet of buses is maintained by the school to provide transport facilities to students and teachers to commute to and from school. The buses are managed by caring and trained staff. The timing of the buses are kept as per the convenience of both the students and the parents' schedules.
COUNSELING
We believe in providing emotional support to both parents and students of our school. Therefore, a counseling session is organized to provide necessary advice to students and their parents. At Cambridge, every student goes through periodic evaluation each semester. The school also encourages the parents to collaborate with the supervisors and/or request for a joint session with the counsellors along with the child. This counseling session enables them to have a productive one on one interaction with the student.
MEDICAL CENTRE
We believe in safety first, thus, the availability of medical centre for the same. Our medical centre at Cambridge school has a peaceful and secluded sick room and well-stocked medicine and first aid kits. The students in the school campus are kept under surveillance to ensure they are safe while they are on the school premises.